A Moment In Time By Rhonda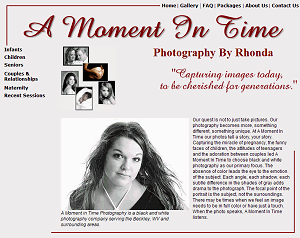 At A Moment In Time, their goal is not just to take pictures. Their photographs become more, something different, something unique. They capture memories in black and white. With the fascination of pregnancy, the love of children, the attitudes of teenagers and the adoration between couples.
The absence of color leads the eye to the emotion of the subject. Each angle, each shadow, each subtle difference in the shades of gray adds drama to the photograph. The focal point of the portrait is the subject, not the surroundings. There may be times that an image needs to be in full color or just have a hint of color. When these times occur, that is exactly how they will be processed.
Your portraits will become an heirloom. A Moment In Time captures images today, to be cherished for generations. Their goal is to truly create "A Moment in Time".