Alabama Heath Advertiser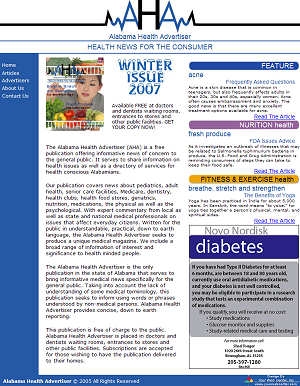 In the state of Alabama there is no health publication that serves to bring informative medical news specifically for the general public. Taking into account the lack of understanding of some medical terminology, this publication seeks to inform using words or phrases understood by non-medical persons. Alabama Health Advertiser seeks to provide concise, down to earth reporting.
This publication is free of charge to the public. Alabama Health Advertiser is placed in hospital lobbies, doctors and dentists waiting rooms, entrances to stores and other public facilities. Subscriptions are accepted for those wishing to have the publication delivered to their homes.