Good Evening Ranch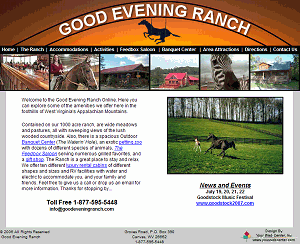 The 1,000 acre ranch, nestled in foothills of West Virginia's Appalachian Mountains, has developed a reputation for quality vacations, family outings and fine dining.
The Good Evening Ranch has programs for children from tots to teens with plenty of activities for parents and grandparents alike. You can soak up the sun at the swimming pool, be adventurous on the hiking and biking trails, take in the thrills of the rodeo, or kickback and enjoy concerts under the starry skies.
Guest accommodations are provided to fit any group size; you can even bring you own and camp at our RV facilities complete with water and electric hook-ups.
Fine dinning is enjoyed by all at the Feedbox Saloon, where you can cozy up to the stone fireplace, take-in the beauty of the countryside, and view the exotic sea creatures in our saltwater aquarium (but donít feed the sharks!). Then take a stroll over to the gift shop and browse the mouthwatering treats, crafts by local artisans or get information on the events and activities at the ranch.
The outdoor banquet facilities can accommodate/cater up to 200 guests and is perfect for wedding receptions, banquets, corporate events or any large group.