Actual Quote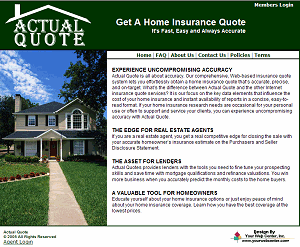 Actual Quote assists homeowners, mortgage brokers, and real estate agents in their search for affordable home insurance. They do not sell insurance, but provide valuable information that can be used to make educated decisions about homeowners insurance.
Providing a no obligation, fast and accurate quotes.
After getting quotes, homeowners can evaluate if their current company is reputable, provides good customer service, provides the right coverage, financially stable and dependable. There is no charge for individuals to use the Website.